Action plan for industry 2022-2023
Oppdatert: 4/4/2022 8:19:08 AM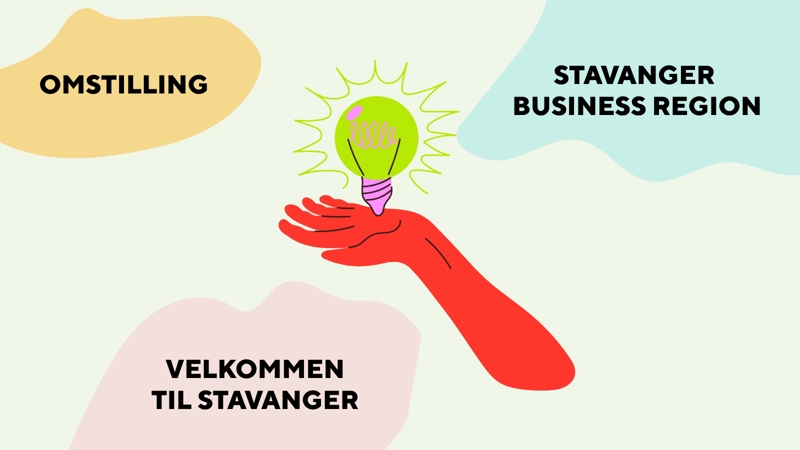 About the Action plan
The business community in the region is changing rapidly and is facing important choices related to global trends such as climate and the environment, energy transition and digitalisation. Therefore, it is important that the municipality is predictable, flexible and adaptable when meeting the business community. We must be able to seize opportunities at short notice and prioritize areas that are important for achieving the goal of being "the metropolitan area with the greatest competitiveness and value creation in the country, and a leader in green transition".
Our focus areas over the next two years
In the first phase of the period, efforts will be made to strengthen the attractiveness of the Stavanger region, continue to be close to businesses and entrepreneurs, and strengthen the work for change. Therefore, the Action plan over the next two years will prioritize these focus areas:
♻️ TRANSITION
⚡️ STAVANGER BUSINESS REGION
👐🏽 WELCOME TO STAVANGER
These areas will contain projects, activities and measures that all represent a new way for the municipality to work with business development. Among the tasks that are not part of the action plan are taking care of support schemes, consultation responses, analysis of business data, cooperation in networks and facilitation of international projects.
Our Action plan extends over two years and is based on the Strategy for Economic Development 2021-2030.
1. Transition
In the time ahead, it is important that the Stavanger region further develops strong industries and a greater diversity of businesses. This will strengthen us as an attractive region to live, work and live in. It will also make the region less vulnerable to fluctuations in the market. This focus area is about taking an active role in sustainable business development based on unique competencies that already exist in the region. It builds on the strategic move: Future-oriented business life.
What are we going to do to contribute to change?
MEASURES

GOAL

COMMENT

Develop meeting places between the municipality, industry and academia to discuss innovation and restructuring projects
Strengthen the hosting role and stimulate change through collaboration and new ideas
The initiative will act as a bridge builder between companies and individuals who want to establish themselves with new ideas or technologies in the Stavanger region.
Take initiative to establish collaborative project to get more people into working life and work to close the competence gap
Contribute to relevant competence in business, employment, and work training, as well as reduce the risk of exclusion
Requires broad collaboration between the public sector, industry and academia.
Earmark strategic funds for restructuring projects
Support business development based on existing industries and expertise
The measure is based on a greater need for strategic use of funds aimed at the focus areas in the Strategy for Economic Development
Work to develop more clusters and strategic corporate networks
Strimulate value creation and jobs in future-oriented industries
Clusters contribute to innovation and value creation, strengthen visibility and access to capital and are a tool for internationalisation
Take initiative for collaborative projects with the energy cities Aberdeen and Esbjerg
Learning and exchange of experience between energy cities, and strengthen Stavanger's position as an energy capital
Collaborating partners from regional business and academia may be included on the type of project

Interdisiplinary project to link business development and public procurement more closely

Contribute to the municipality taking a more active role as a purchaser to stimulate innovation

Increase competence in public procurement with entrepreneurs and small and medium-sized enterprises

Internal collaboration with other departments in the municipality
Work to establish a Shelf Directorate in Stavanger
Strengthen the Stavanger region's position as energy capital, accelerate the development of activities within offshore wind and other future industries with activity on the Norwegian shelf
Part of the work under the focus area Energy Capital
Map regional opportunities in circular economy
Identify collaborative projects that can contribute to the green transition.
The measure can be inplemented in collaboration with research and development partners. We will assess opportunities for investing with other stakeholders
2. Stavanger Business Region
Stavanger Business Region will strengthen Stavanger as an attractive business region, nationally and internationally. A strong brand helps to attract expertise, capital and businesses. There will be a targeted investment through digital channels and a physical presence in selected arenas.
Stavanger Business Region builds on several of the strategic measures in the Strategy of Economic Development, but especially; Attractive metropolitan region and International cooperation.
HOW ARE WE GOING TO BUILD STAVANGER BUSINESS REGION?
MEASURE
GOAL
COMMENT
Establish profile, website and social media for Stavanger Business Region
Increase the visibility of the Stavanger region locally, nationally and internationally
Work began in the autumn of 2021
Attend student events and career days for students along with local businesses
Synliggjøre regionen for studenter, nasjonalt og internasjonalt, for å rekruttere kompetanse til regionen
Make the region visible to students, nationally and internationally, in order to recruit competence for the region
Create a package for profiling (text, video and photos) that local actors can use to strengthen the identity of the Stavanger region
Promote an identity for the Stavanger region and contribute to more ambassadors for the city
This was based on a specific need that the business community has proposed for the municipality
Participate in selected arenas (fairs, conferences, events) both nationally and internationally

Profile and make the Stavanger Region visible.

Stand together as a region and showcase the qualities we have as a residential and commercial region

Pay special attention to making the region's value chains known nationally

Strengthen knowledge in the European market through international networks and in collaboration with the Stavanger region's European office

Highlight stories that show breadth and diversity in local industry, especially in green transition
Strengthen the region

's reputation as an energy capital and spearhead in the green shift

Pay special attention nationally and internationally to attract a varied business community and new skills
3. Welcome to Stavanger
Welcome to Stavanger is a focus area that will strengthen Stavanger municipality as a host for the business community, and help to simplify and improve the municipality's services. The focus area will consist of measures and smaller deliveries aimed at various target groups, including established businesses, entrepreneurs, international employees and companies that want to locate in the region.
Welcome to Stavanger builds on the strategic measures: Best host municipality and Attractive metropolitan region.
HOW ARE WE GOING TO IMPROVE THE MUNICIPALITY'S SERVICES?
MEASURE
GOAL
COMMENT
Strengthen the ecosystem for entrepreneurs and help simplify the establishment process
Contribute to more business start-ups to create an attractive city for entrepreneurs
Close collaboration with the entrepreneurial communities will be crucial for success as a good host municipality
Work to further develop a fast track to help companies find suitable locations and construction cases through interdisiplinary collaboration
Attract companies and make it easier to establish business in the municipality and the region

The measure may contain several smaller diliveries, and presupposes good cooperation within the municipality

For example, we can work for sufficient power supply or other important framework conditions for the business community

Develop and renew the municipality's information about services and offers in English
Strengthen the hosting role vis-à-vis international workers and immigrants
Collaboration internallly in the municipality, and with industry, academia and relevant target groups
Develop a well-functioning system for working activity with business establishments (invest-in)
Provide more companies and jobs for the region
Presupposes close cooperation and good networks between politicians, administration, industry and academia
Content
Close