Strategy for Economic Development 2021-2030
Oppdatert: 4/11/2022 10:12:59 AM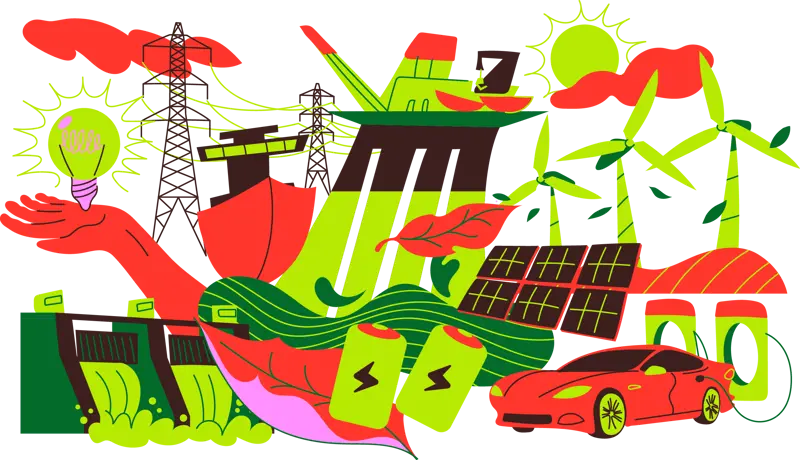 About the strategy
From the city of canning to the oil capital. From the oil capital to the energy capital. Stavanger has always been part of the transition, and now we are facing yet another challange. As a region, we must ensure a more sustainable business basis in order to have a more diverse economy.
The Strategy for Economic Development and the plan for this transition is based on the competence and technology we have acquired with almost 50 years of oil and gas. We believe this has given us both a unique competence and a competitive advantage towards a more sustainable business sector. Our goal is for the Stavanger region to be the metropolitan area with the greatest competitiveness and value creation in the country, and to be leading in green transition.
Greatest competitiveness and ability to create value
To achieve our goal, we have selected four important focus areas:
⚡️ The energy capital
💧 Agriculture and aquaculture
💡 Industry, technology and competence
🎉 Experiences and tourism
These focus areas will make sure we strengthen what we are already good at, at the same time as we invest in new industries that are important for the transitioning we are facing. In addition, we have selected some strategic initiatives that will help us achieve our goals.
Our four strategic initiatives are:
👋🏽 Best host municipality
🌟 Attractive metropolitan area
♻️ Future-oriented business community
🌎 International cooperation
Based on the business strategy, we have developed an action plan for the next two years. In this plan you can read about our focus areas and what measures we have planned for each of them. The action plan for industry can be found here.
Our four focus areas
The four focus areas that will give us sustainable development on the way to becoming the best in terms of competitiveness and value creation ability.
The Energy Capital
Over the past fifty years, Stavanger has been the centre of the development of Norway as an energy nation. Energy is the region's main industry and will remain important far into the future. But a great potential exists for further development in renewable energy such as offshore wind and hydrogen – both on the operational and the supply side.
There are several active, competent and internationally leading environments in the region. Some of them are developing solutions aimed at carbon capture, use and storage. In many cases, the expertise from the petroleum sector is directly transferable. These industries are expected to have a high export share, employment, value creation and wage capacity. Experience and competence from the oil and gas industry is an advantage and a prerequisite for successful transition to the "green shift". This will also be in line with EU's Green Deal.
Agriculture and aquaculture
Rogaland is the food county with approximately 30 percent of food production in Norway. Soil and climate provide the region with some of Norway's most productive agricultural areas. Light conditions, climate and access to natural gas provides the islands in Ryfylke with a competitive advantage for horticulture in greenhouses. There is potential to increase value creation, strengthen value chains, increase resource utilization and develop and refine products based on short-distance raw materials of high quality.
Stavanger is the country's fourth largest fish farming municipality and the region is already heavy on technology and research. The aquaculture industry employs many people, and there is room for large local ripple effects when the industry grows out of the fjords into the open sea. The industry aims to increase volume and to adopt new production technologies.
Access to raw materials and unique expertise has given Stavanger a position as the city of food, with several of Norway's best restaurants.
Industry and technology
Major global challenges such as climate, demography, energy and sustainability directly coincide with our own challenges. The Stavanger region has built a unique competence through 50 years of oil and gas. This expertise will help solve global challenges, and open up new markets for local businesses.
The region has a business community and academia that develops technology that supports and develops all industries. Examples here are digitization, automation, robotization, artificial intelligence (AI) based on the use of large amounts of data, machine learning etc. The technologies will be able to contribute to solving challenges related to restructuring, health and energy, and at the same time build new industries and create new jobs.
This strategic focus area harmonizes with developments in the business sector, where technology contributes to developing new types of industry, budding from current industry and strengthening the market position.
The region has a unique competence where technology contributes to developing new industries that are complex and difficult for others to copy. Several of the companies in this category have high value creation with a large growth potential.
Experiences and tourism
The Stavanger region is the most international and outward-looking metropolitan area in Norway. Short distance from the big city to well-run cultural landscapes and magnificent nature on islands and in fjords, makes it easy to combine city life and cultural experiences with nature experiences and active holidays.
The food city of Stavanger offers world-class culinary experiences, based on short-distance ingredients.
The festival and conference city of Stavanger hosts more than 30 events annually, the Nordic region's largest food festival – Gladmat – included. High competence on large events, good accommodation capacity and connections internationally provide room for growth.
Good framework conditions and adapted infrastructure will stimulate sustainable tourism with high local value creation, based on natural and historical advantages.
In addition to these investments, the region has natural advantages that facilitate various forms of natural resource-based industrial development, such as mining, power-intensive industry and data centers. Many of these will be physically outside the border of Stavanger municipality, but the industries will create ripple effects to the entire housing and labor market region. As a regional engine, it is natural that the municipality offers to assist other municipalities where it is desired to realize such opportunities. There are great opportunities in the new model for project-based, regional business cooperation.
If the region succeeds in developing new industries, this will have major ripple effects on other "support industries" such as banking/finance, the consulting industry, legal activities, hotels, restaurants, construction, and the IT sector. Several of these industries have in common that they need a solid local market, and several are "overrepresented" in the region today because the head offices in the petroleum industry are located in the region.
This is how we do it
Four strategic measures have been identified as an important part of the municipality's toolbox. Each of them will contribute to the goals of the strategy being achieved.
Best host municipality
In 2019, Stavanger was named Norway's best host municipality. This is both a commitment and an inspiration. Municipalities that succeed in business development are often those who are close to the business community, able to adapt quickly and provide a short distance between idea and action.
The municipality has to make good arrangements for industry in the municipal planning system. Furthermore, it is essensial with high level of service for existing activities and for those who want to establish themselves in the municipality. The municipality's role as a purchaser is an important asset for the local business community.
Therefore, we will:
Be close to business.

Have the capacity and competence to seize opportunities.

Have the best possible framework conditions for the business community.

Develop "Fasit Stavanger": a fast track for the business community in the meeting with the municipality.

Facilitate attractive business areas in the region.

Be a door opener to new markets.

Develop a good regional cooperation.
Attractive metropolitan area
Stavanger shall be a magnet for business and competence. It shall be attractive to start and run a business in the region. We will attract the employees of the future and families with children, and then housing, education, cultural activities and outdoor areas are important. In the same way, this is important for the business community to choose the region. Therefore, good regional cooperation between municipalities, the county, organizations and existing businesses is important for success in the competition, nationally and internationally.
Therefore, we will:
Strengthen the brand in the Stavanger region.

See business development and place development in context.

Develop the City of knowledge in Stavanger.

Develop the City of food in Stavanger.

Develop Stavanger as a test region for new ideas.

Make the big city and the islands favorite destinations.

Make Stavanger a preferred arena for international events.
Future-oriented business
With its unique competence the Stavanger region has a competitive advantage in the transition to the green shift. This gives us a good basis for developing new, competitive industries based on existing knowledge.
The future-oriented business community is complex, and provides greater robustness and adaptability. It provides lasting competitive advantages and a basis for high value creation over time.
Therefore, we will:
Be Norway's driving force for the green shift: From oil capital to energy capital.

Build on the unique expertise we have to create new industries with high value creation.

Be a driving force for Norway's most modern and sustainable food production.

Target the efforts and use the resources where they give the best effect.
International cooperation
Stavanger is the home to people from more than 180 countries, has an international business community and lives off export.
International cooperation means co-creation, diversity, exchange of knowledge, and inclusion. This can be divided into the main streams of incoming, outgoing and hosting. These describe Stavanger's role in various contexts with cross-border cooperation, but also the role of host at home.
Global megatrends that affect everyday life are shared with cities in other countries: climate change, demographic change and digitalisation. The EU's green growth strategy addresses many of these and is in line with the investment areas set out in the strategy. Sharing knowledge and experience in networks and projects is important if one is to be able to develop local solutions to global challanges, and meet the needs of citizens and businesses.
Therefore, we will:
Be an open and inclusive city.

Develop cooperation with the Stavanger Region European Office.

Actively seek business opportunities within the

EU/EEA

partnership

.

Share knowledge and gain experience through networks, project collaborations and delegations.

Collaborate with the business community to attract expertise and enterprises that contribute to the further development of the business community and strengthens Stavanger's international position.

Make it easy for international businesses to establish in Stavanger.
Content
Close